The Elite Martial Academy is a private dojo founded by Mike Finn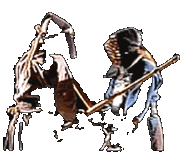 teaching self defence and a range of modern and classical Japanese martial arts.

The tuition offered at the dojo is of a very high standard. Classes are kept small and every student receives personal attention.

The martial arts are taught in a manner that is similar to the teaching in Japan. The training is conducted in a friendly but disciplined and purposeful atmosphere.

Skills taught at the dojo include self defence, aikido, kendo, stick fighting, iaido, jojutsu and ryuku kobudo.

Types of tuition
Regular group classes are held on weekday evenings. Classes are kept small so that all students receive personal attention.
Private one-to-one tuition is available and is arranged at a time to suit yourself and the instructor. Please contact us for details on rates.
If you wish to arrange a course for your company then please contact us to discuss arrangements. Courses are usually held at the dojo but can be held at your own premises if they are suitable.
How to arrange tuition
The first step is to watch a lesson and to have an informal discussion about the training. Please phone 07802 729662 and ask for an appointment to come to the dojo to see a lesson in progress.
We welcome any socially mature individual who is seriously interested in taking up some form of training. Current level of fitness, age, sex, race, religion etc is irrelevant.
Copyright © Michael Finn. All rights reserved
Last modified 15 Nov 2011 22:20